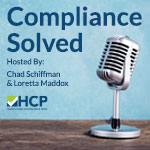 Do you have contracts in place that require you to attest to meeting CMS compliance requirements?​​​​​ 
Do you have questions about what those requirements are?
What is an "effective compliance program" and how do you put one together?
Having policies and procedures and training in place on Fraud, Waste and Abuse is a huge benefit for any provider, whether they have contractual obligations or not.
What are you doing to stay current on best billing and coding practices to avoid any issues and reduce your risk of external audit?
Are you performing chart audits?
Learn from our compliance experts, Chad Schiffman and Loretta Maddox as they discuss everything from effective compliance programs, code of conduct, and how we can help you identify coding audit risk and help avoid fines and penalties.